Stocks continued to have fun in the sun as markets extended their summer rally.
Broadly positive sentiment throughout the month helped major US indices climb higher. Small-cap stocks led the way for the second straight month with the Russell 2000 soaring 6.06%. Powered by stronger-than-expected earnings and improving economic data, the Nasdaq, Dow Jones Industrial Average, and S&P 500 posted gains of 4.05%, 3.41%, and 3.30% respectively. The Dow even decided to party like it was 1987, logging its longest winning streak in decades with 13 consecutive positive days.
International equities followed the trend higher as developed international stocks gained 3.14% and emerging markets rose 5.88%. Amid disappointing data from China and ongoing geopolitical tensions in Russia, India's stock market rallied to an all-time high in July, helping prop up investor confidence overseas. Citing stronger growth in India, the International Monetary Fund raised its 2023 global growth prediction.
Despite the strength in stocks, bond asset classes ended the month mixed. The US aggregate bond market fell 0.07% as the 10-year treasury yield increased from 3.81% to 3.97%, pushing bond prices lower. However, high-yield bonds once again followed riskier asset classes higher gaining 1.33% for the month. Volatile interest rates have remained a headwind for bonds, but higher interest payments have at least helped bonds hold up better than last year (US aggregate bonds are still up 2.02% YTD).
Markets have been mostly favorable so far in 2023, but it's important to keep things in perspective. Even after a blistering 38.12% rally for the Nasdaq this year, the index is still 10.5% below its all-time-high level. The Dow is up just 7.31% YTD, but is only 3.5% off its high as the blue-chip index was more steady during 2022's sell-off. Last year's laggards have quickly become this year's leaders, and vice versa. This is why diversification is so important - getting rid of the potential to hit a home run so you don't strike out. The goal is to achieve a more consistent outcome over the long run while avoiding excessive losses at an inopportune time.
Story 1
X marks the… Tweet?
Twitter announced it was replacing its iconic bird logo with an X. Elon Musk also tweeted (or x'd) that X.com now points to twitter.com. The company expects to eventually ditch the "Twitter" brand altogether.

CEO Linda Yaccarino said the rebrand represents the company's vision going forward. While Twitter changed the way people communicated via social media, X is looking to go further by turning it into an everything app (audio, video, messaging, marketplaces, payments/banking, etc.).
X is hoping artificial intelligence can help power its transformation. Musk recently launched a new organization named xAI as well.
The overhaul comes amid falling ad revenues and rising competition. With an already heavy debt load, the company is hoping to become cash flow positive to afford the luxury of adding new features.

Story 2
And one more for good luck.
That's what the Fed told markets as they raised rates another 0.25% in July following the brief pause in June, bringing rates up to the 5.25% - 5.50% range.

This was the 11th rate hike since March 2022 when rates were effectively zero. Now, rates are at the highest levels since the beginning of 2001.

Fed Chair Jerome Powell did leave the door open for another potential hike later this year, saying the central bank will make data-driven decisions on a meeting-by-meeting basis going forward. However, it was also noted inflation has moderated since last year's highs, leaving room for a more permanent pause on the horizon.

Markets are pricing in that we've already reached the peak rate in the cycle, placing just a 17% probability of another increase in the September 20th Fed meeting.

Market Health Indicator
The Market Health Indicator (MHI) measures market health on a scale of 0 - 100, analyzing various market segments such as economics, technicals, and volatility. Higher scores indicate healthier market conditions.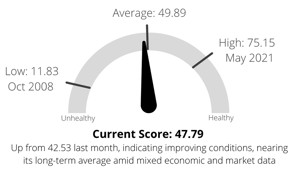 Fun Facts
• The National Association of Theatre Owners reported there were more than 200,000 tickets sold for same-day screenings of Barbie and Oppenheimer (i.e. Barbenheimer).

•Competitive art was a sport in the Summer Olympics from 1912 to 1948 (can't imagine why it was removed from the lineup).

•No number before 1,000 contains the letter 'A' when spelled out.

•The original name for the hashtag sign (or pound sign) is octothorpe, with 'octo' referring to the eight points in the # symbol.
The information presented is not investment advice - it is for educational purposes only and is not an offer or solicitation for the sale or purchase of any securities or investment advisory services. Investments involve risk and are not guaranteed. Be sure to consult with a qualified financial adviser when making investment decisions.
Sources:
1. Data as of July 31, 2023 // Source: Morningstar
2. Advisor 123