Monthly Market Update: Looking back - Looking forward
This year has been a roller coaster in every sense of the phrase, and when we take a roller coaster ride it can be hard to know where you are and where you're going! So, let's take a few minutes to recap where the stock market is today and what economic & market items we need to be aware of. This "look back - look forward" method helps ensure that we have the correct expectations and plan in place to maximize potential results.
Year to Date in 2020 markets began with a strong push towards all time highs. By the end of February concerns about the impact of COVID-19 triggered a sell off which resulted in a bear market (20% decline of the market). The market bottomed on March 23rd and began a rapid recovery in price. For your reference here is the journey of the Total US Based Stock Market (purple line) compared to the Total International Developed (orange) and Emerging Market (blue) indices: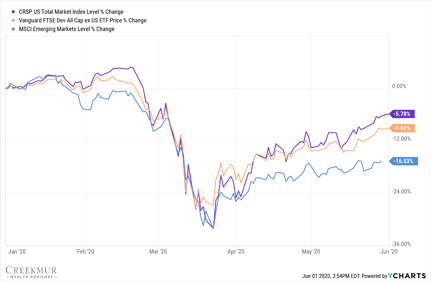 As of June 1, the S&P 500 sits at 3056. This is 330 points (or roughly 10%) off the S&P 500's all-time high that was achieved on February 19, 2020.1 This rebound has boggled the minds of many market prognosticators due to the disconnect of the market compared to the present-day news. With north of 40 million individuals filing for unemployment, businesses being closed or limited in their capacity to operate, and increasing political discord, many individuals are struggling to rationalize or understand how the stock market could stand where it does today.
As portfolio managers it's our responsibility to attempt to remove the emotion and noise out of the decision-making process so that we arrive at the most logical, even-keeled investment decisions for our clients. Here are some of the items we believe are critical to the direction of the market in the coming weeks and months:
The Return to Work

- The ADP National Employment Non-Farm Private Payroll Report will be released this week on Wednesday. This report provides a clear snapshot of the overall jobs market and the direction of unemployment numbers. Last week saw continuous unemployment claims decrease to 21.05 million, which was the first decrease in this number since late February.

A positive report on the number of individuals returning to work will provide further clarification of whether this market has more economic support behind its growth.

To read more about how we use data check out our May 19 Flash Briefing.

Company Earnings

- The stock market ultimately moves one way or another on the earnings of companies. If there are strong earnings and companies are seeing their bottom lines grow, the market runs. If earnings are weak and the outlook for companies is also weak, the market tends to react poorly. At this stage, many companies have completely pulled their previously issued guidance regarding how they anticipate their performance for the rest of the year. With such uncertainty there is a higher chance of increasing volatility throughout the rest of the year.

We are constantly watching for any indication of how a company or sector may be expected to perform one way or another to better assess which areas of the market have the most potential.
What Innovation Will Grow?

– We expect that innovative companies and industries will come to light during this period of economic uncertainty.

As an investor, identifying these trends or companies early on puts you in the advantageous position to invest at an early stage and receive a large portion of the upside growth.

We have specific investments in our current portfolios that are investing strictly in innovation – i.e. companies that are in an innovative field like Genomics or Electric vehicles. Additionally, we have a hit list that identifies the early stages of innovation that we are seeing in our daily lives and markets.
I strongly encourage you to keep your eyes and mind open in the coming weeks and months ahead. Conduct research, listen to multiple viewpoints, and assess how those viewpoints may or may not impact you. In our world today and in our finances as well, it is important to first listen & learn, think second, and react third.
Creekmur Wealth Advisors may be reached at 866-358-4441 or Info@Creekmurwealth.com.
Citations.
1 - https://www.cnbc.com/2020/02/19/stock-market-wall-street-in-focus-amid-coronavirus-outbreak.html