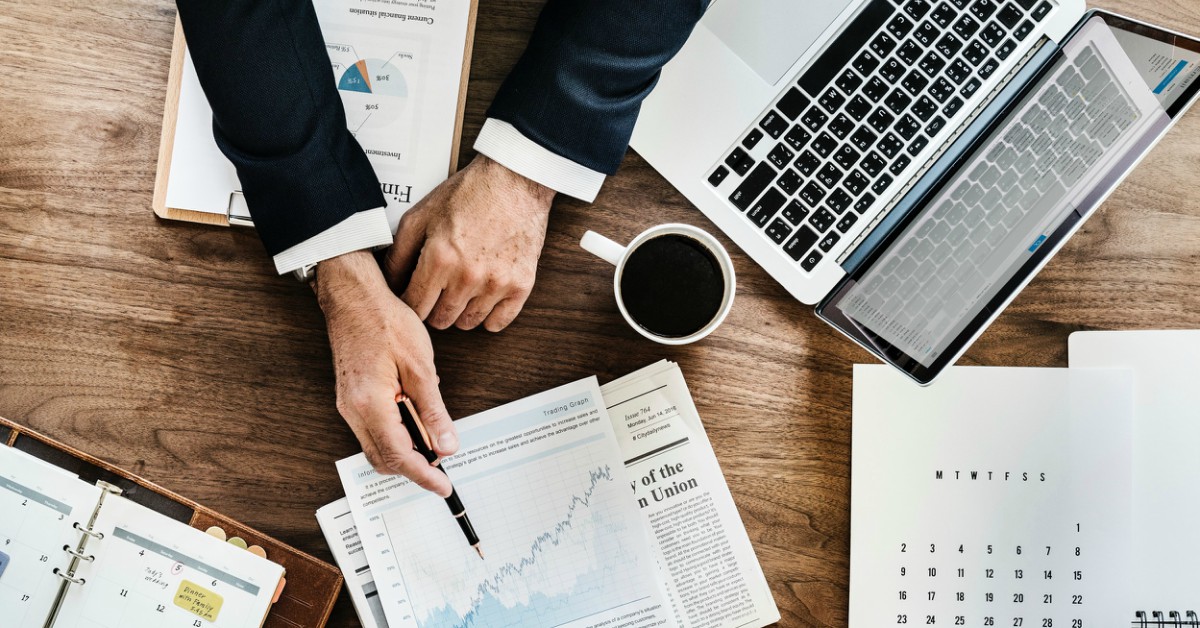 How an individual or advisor conducts an analysis for a potential investment is one of the largest contributors to the long-term success of that particular investment. If someone has a well thought out analysis process, the odds of investing success could greatly increase.
However, if an individual is making their investment decisions based upon what is "hot" or what they are told to buy on TV, they could make a poor investment. That is why we encourage everyone to consider how they analyze and decide what investments to implement. For the individuals who allow our firm to manage their assets, we strive to ensure that we articulate our analysis process. It is this process that we will now cover:
1. Identify a missing piece
When first trying to choose a new investment, we try to find any pieces that may be missing in our current models. Perhaps we want to find a better vehicle for diversification or for faster rebounding during market downturns. From there, we identify an investment within a specific sector or group that can fill in that missing link and start analyzing.
2. Getting the 'big picture'
Once our firm has chosen an idea to run with, we take a fundamentalist approach first. Starting broad, we look at the current economic situation, current events that could affect the markets, and sector performance. We take this information and make hypotheses on how it could affect our potential investment idea. The aim here is to get a good sense of the macroeconomy of that market. Once the 'big picture' has been painted, we get technical.
3. Looking at the numbers
Technical analysis allows us to examine the market demand of a potential investment. Bollinger bands, simple moving averages, and other numerical modeling tools are technical ways to help evaluate how many investors want to buy or sell our potential investment. It is here that we can estimate when would be a good time to buy this investment.
4. Diving deep into research
Now that our firm has a solid grasp on the markets and their behavior, it's time to start filtering. We have a few direct filters that help us to immediately rule out contenders for our potential investment. These filters allow our firm to quickly narrow the field. Below, an illustration shows our direct filters: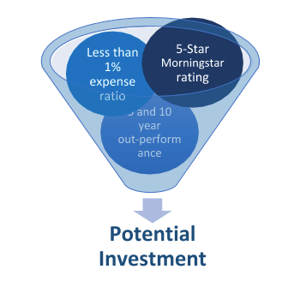 A less than 1% expense ratio means that the primary fee associated with this investment is less than 1% of our client's investment into this vehicle.
A 5-star rating is the highest rating given on Morningstar, an investing analysis software.
Outperformance means beating the S&P 500 in both the calculated 5- and 10-year annualized returns on that investment.
5. Ruling out investments
Any investments that do not make it past these filters are usually thrown out. These filters are in place to help ensure that each investment we place in our clients' portfolios is the best fit for their True Wealth goals.
6. Choosing the select few
After we go through our filters, we often still have quite a few potential investments left to choose from. We take these last remaining options and investigate them thoroughly. We utilize tools like Morningstar and Riskalyze to determine how each potential investment affects our core and satellite strategy—in risk, return, and volatility.
An important note, Creekmur Wealth Advisors is independent of any major financial institution. This means that we are not limited to only certain companies' mutual funds; we have our pick of the entire feast. Our clients are our first priority, and we want to be able to give them a comprehensive selection of investments.
7. Finalizing
Once we have found the potential investment that fills in the puzzle, we move forward. Using our previous technical analysis, we find a proper time to purchase the investment. Once purchased and integrated into our models, reviews are continuously done to ensure that our current investments are still the best fit for our models.
Wrapping up
Creekmur Wealth Advisors prioritizes our clients. We value deep analysis and consider all of our options carefully before making any investing decision. This is how we find the investments for your True Wealth goals.
---
Securities offered only by duly registered individuals through Madison Avenue Securities, LLC (MAS), member of FINRA/SIPC. Investment advisory services offered only by duly registered individuals through AE Wealth Management, LLC (AEWM), a Registered Investment Adviser. MAS and Creekmur Wealth Advisors are not affiliated entities. AEWM and Creekmur Wealth Advisors are not affiliated entities. Investing involves risk, including the potential for loss of principal. Past performance is not indicative of future results. This information is not intended to be used as the sole basis for financial decisions, nor should it be construed as advice designed to meet the particular needs of an individual's situation.00189667