Markets took a breather from the summer rally as major indices pulled back in August.
A mix of geopolitical events and rising rate hike concerns amid lingering inflation
caused markets to decline for the month. Investors had been pricing in a more
permanent rate pause, but expectations for one more hike in November jumped
higher following Fed Chair Jerome Powell's remarks at the annual economic
symposium.
Smaller companies were hit the hardest as the Russell 2000 dropped 5.17%. The
Dow Jones Industrial Average, Nasdaq, and S&P 500 also fell 2.36%, 2.17%, and
1.77% respectively as the losses were widespread.
International markets moved lower as well, with developed international stocks
falling 3.95% and emerging markets sliding 5.90%. Continued disappointing data
out of China resulted in emerging market stocks underperforming their more
developed market peers. While many countries continue to battle inflation, China's
headline consumer price index fell 0.3% year-over-year as prices were weighed
down by economic weakness.
As interest rates remained volatile, traditional bonds couldn't escape the downward
pressure. The US aggregate bond market slumped 0.64% marking the fourth
consecutive monthly decline as the 10-year treasury yield rose from 3.97% to
4.09
(spiking as high as 4.34% mid-month). However, high-yield bonds bucked the
trend and gained a modest 0.25% for the month as the higher interest payments
helped offset interest rate risk.
It's important to remember market pullbacks aren't uncommon, especially when
climbing back from bear territory. Major indices are still broadly positive YTD but
remain below all-time highs, so it's reasonable to expect some volatility on the road
to recovery. This is why having a solid investment plan and strategy is so important
- to help keep the focus on the long run during periods of heightened volatility and
short-term noise.
India Makes Space History
Fly me to the moon, let me play among the stars.
India became the first country to successfully land a spacecraft on the moon's south
pole. The Chandrayaan-3 mission had a reported budget of just $75 million, less
than what Warner Bros. spent to make the film Gravity.
Just days prior, Russia failed to accomplish a similar feat as its unmanned
spacecraft "ceased to exist." So why the sudden interest in the south pole of the
moon?
Scientists believe the region could be home to ice deposits which could be melted
into water and used to help make rocket fuel. This would provide the ability to
establish the moon as a launching pad for more advanced and longer-term missions to space at considerably reduced costs.
More than half a dozen countries have plans for lunar missions in the coming years,
and NASA is working toward its Artemis III mission to put astronauts back on the
moon as soon as 2025.
Workin' 9 to 5, just not in an office.

Office-leasing behemoth WeWork said it had substantial doubt about its ability to continue as a going concern in a recent SEC filing.

The company, which rents close to 20 million square feet of space, more than any other US business, lost nearly $400M last quarter as the return-to-office movement has remained slow.

While companies like Amazon, Meta, and Goldman Sachs have pushed for employees to get back in the office, approximately 70% of US employers offer a hybrid/flexible schedule.
One report found that a third of office desks sit empty all week, while another third are used only half of the time.

After seeing its stock price plunge 99% since its debut in 2021, WeWork announced a 1-40 reverse stock split in an attempt to avoid being delisted from the New York Stock Exchange.
The Market Health Indicator (MHI) measures market health on a scale of 0 - 100, analyzing various market segments such as economics, technicals, and volatility. Higher scores indicate healthier market conditions.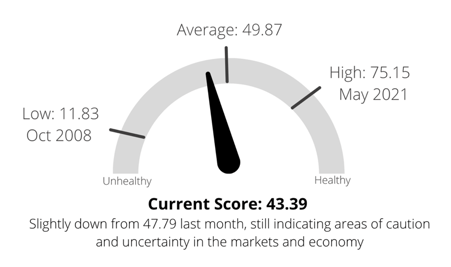 The first college football game was played between Rutgers and the College of New
Jersey (now Princeton) in 1869. Rutgers won 6-4.

While Labor Day marks the unofficial end of summer, fall officially begins on September 23 this year. Bring on the pumpkin spice...

Yoda and Miss Piggy were voiced by the same person - puppeteer Frank Oz.



The information presented is not investment advice - it is for educational purposes only and is not an offer or solicitation for the sale or purchase of any securities or investment advisory services. Investments involve risk and are not guaranteed. Be sure to consult with a qualified financial adviser when making investment decisions.