World events that impacted this year.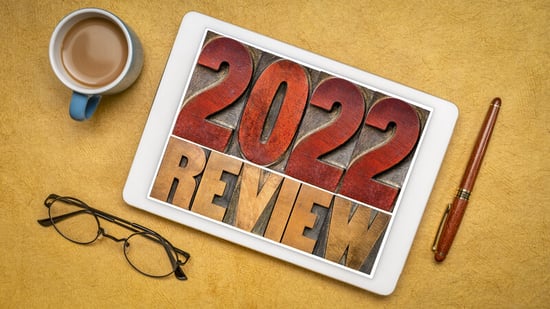 "Those who fail to learn from history are destined to repeat it."
Winston Churchill
Let's look back at 10 events and economic data points of 2022
to better prepare for the year ahead.
1. Conflict in Ukraine/Global Tensions
2022 got off to a rocky start on February 24th when after growing tensions, conflict broke out as Russia invaded Ukraine. This conflict has had ripple effects across the global economy. Most notably, supply chain interruptions for natural gas, oil, wheat, and other precious minerals that are produced in both countries. European countries and Russia have been in an ongoing standoff in relation to the supply of Natural Gas/Oil since the war kicked off. These factors have all ultimately led to increasing prices in commodities around the world.
2. 40-Year High Inflation Growth
This past year we saw inflation increase at the fastest pace we've seen in 40 years. Back in June inflation hit 9.1%. This rapid increase has been driven by many factors; record money supply, rising prices (gas, oil, food), and increased demand for housing and vehicles. Inflation at these levels is never a positive as it severely impacts many individuals and the economy at large. One large positive from the heightened inflation is the high return available on I-Bonds which peaked at 9.6%. Battling inflation has led the Federal Reserve to increase interest rates and begin reducing the supply of money in the financial system. In turn, these actions have led to an extremely volatile year in stocks and bonds. 1,2,3,4
3. Top Performing Sectors: Oil and Natural Gas
Due in part to constrained global supply chains and the war in Ukraine, Oil and Natural Gas have seen massive price increases. From an investment standpoint, oil and natural gas have had a very positive year due to skyrocketing prices. After a rough 2020 performance, in 2022 prices of oil experienced a rapid increase. This year the price per barrel peaked at $123 (BRENT). Additionally, natural gas prices quadrupled in the last two years. This is driven by elevated demand and rapidly growing exports. This is seen in the performance of FCG (First Trust Natural Gas ETF) which is up 50% year to date as of 12/1/2022.5,6,7
4. Gold and Silver: Inflation Hedges Underperform
With ongoing inflation, investors have looked to traditional inflation hedges like Gold and Silver to protect assets. However, this year gold and silver have both performed poorly, especially as an inflation hedge. From 1/1/2022-11/1/2022 Gold and Silver were down 10.24% and 16.09% respectively. After a rally in November, they are still down 3.7% and 5.21%. Precious metals no longer appear to be the best store value or a good inflation hedge as it once was. Our Director of Financial planning wrote a great blog about that here.8
5. Largest Social Security COLA Adjustment in 40 years
As a result of inflation, we have seen the largest Social Security Benefit Cost of Living Adjustment in over 40 years. This adjustment will increase benefits in 2023 by 8.7%. On top of this, we had an increase of 5.9% in 2022. As a result, the average social security recipient expects to see an increase of $146 per month. Additionally, premiums for Medicare part B are expected to go down. This is a welcome adjustment and provides many retirees some relief from the pressure of inflation.9,10
6. The Fastest Increase in Fed Funds Rate Ever
As a result of the inflation, the Fed started aggressively hiking interest rates in an attempt to bring inflation under control. This was the fastest rate hike ever recorded. We reached 2.36% in only 6 months. Nearly half the time it took to reach the same level in 1988-89.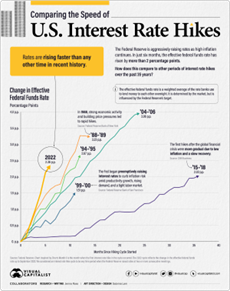 One direct positive for consumers is that rates on CDs, Money Markets, t-bills, etc. have risen as well after a decade of depreciated levels.
7. Savings Accounts Have Great APY
A large bonus that we have seen this year is the ability to get savings accounts working. APYs on savings accounts have gone up nicely. High-yield savings accounts are between 3-4% allowing savers to have short-term money earn more. Check out Drew's video on the best ways to get your cash working for you!

8. Rising Interest Rates Boost T-Bills & Money Markets
T-bills, money markets, and CDs had an incredible hike in rates in 2022. November's 4-week T-bills fluctuated between 3.56% and 4%. This is an incredibly high return for T-bills which are considered safe money since they are backed by the US Government. Similarly, money markets and CDs are seeing increased APYs ranging from 3% for 6-month maturities up to 4.6% for 3-5 year maturities.15,16
9. One of the Worst Years for Bonds Since the Revolutionary War
An unfortunate result of the increased interest rate is that bonds have had one of their worst years since the Revolution! As of October 2022, the 10-year treasury had an annualized loss of 23%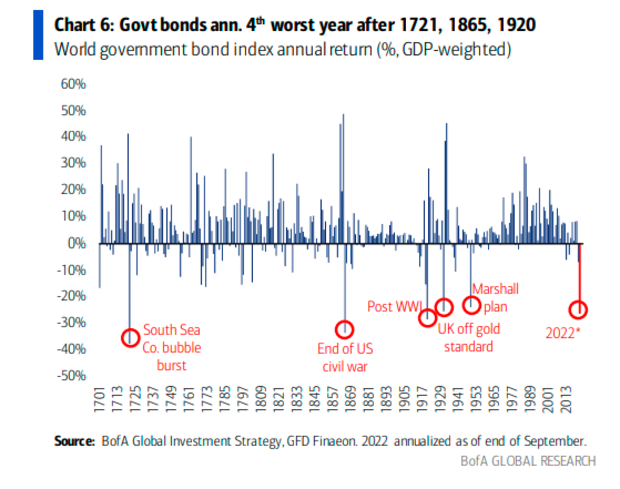 In the last 45 years bonds have fallen in value only 5 times, the lowest being 2.9% in 1994. This happened because of the above-mentioned rapid interest rate increase, which lead to bond yields rising to 3.69% from 1.5% pushing prices down due to the higher yield options. The US Aggregate bond index is down 13.4% as of 11/30/2022.
However, as inflation and interest rate hikes slow there is potential for a rally. We have begun looking to re-enter the bond market after previously shifting funds from bonds into Target Outcome funds. 12,13,14
10. Home and Car Prices Experience Incredible Volatility
Home prices increased by 18.8% in 2021, the most in 34 years, according to the Case-Shiller US home price index. Elevated prices were due to low interest, high demand, and buyers having more cash to purchase with. Recently the average 30-year fixed mortgage is at 7% up from 3% earlier this year. This has caused existing home sales to fall 28.4% year-over-year compared to Oct 2021, which is the fastest housing slowdown on record.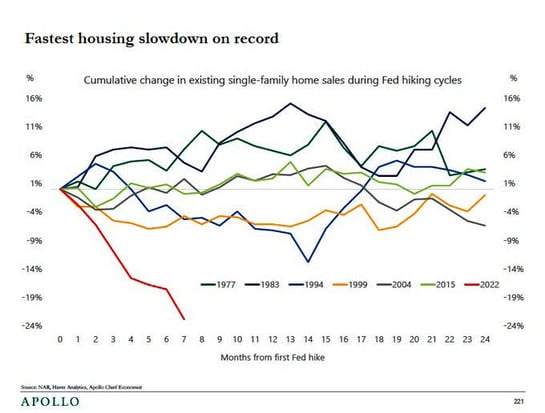 The car market was similar to the housing market having elevated prices due to a slowdown in the supply chain and the previously mentioned economic factors. Recently used vehicle inventory and prices are both falling. This drop is most likely due to the higher interest rates now associated with the vehicles making monthly payments more expensive. Consumers who can afford the payments opt for a new car to justify the payment associated with it.17,18
Here's to another year of learning and growing!
Happy Holidays,
Connor
Connor Creekmur, MBA
Sources:
https://www.bls.gov/opub/ted/2022/consumer-prices-up-9-1-percent-over-the-year-ended-june-2022-largest-increase-in-40-years.htm#:~:text=Consumer%20prices%20up%209.1%20percent,U.S.%20Bureau%20of%20Labor%20Statistics&text=The%20.

https://www.weforum.org/agenda/2022/10/comparing-the-speed-of-u-s-interest-rate-hikes-1988-2022/#:~:text=The%202022%20rate%20hike%20cycle,by%20almost%20four%20percentage%20points.

https://www.cnbc.com/2022/05/02/i-bonds-to-deliver-a-record-9point62percent-interest-for-the-next-six-months.html

https://finance.yahoo.com/news/investment-banks-divided-oil-prices-043841817.html

https://www.forbes.com/sites/rrapier/2022/09/27/why-natural-gas-prices-quadrupled-in-two-years/?sh=5b36a17f3ccf
https://www.cnbc.com/2022/10/13/social-security-cola-will-be-8point7percent-in-2023-highest-increase-in-40-years.html
https://www.marketwatch.com/livecoverage/stock-market-today-10-28/card/what-s-next-for-bonds-after-10-year-treasury-note-s-worst-performance-since-1788--eH3SxR2FBNRnycUF4e2r
https://home.treasury.gov/resource-center/data-chart-center/interest-rates/TextView?type=daily_treasury_bill_rates&field_tdr_date_value_month=202211

https://www.bloomberg.com/news/articles/2022-06-22/deutsche-bank-looks-back-three-centuries-for-parallel-to-us-rout?leadSource=uverify%20wall